These features as a way for the Ministry to highlight artists, musicians, writers, and makers of all variety. With so many talented individuals to choose from, we know it is a challenge to feature every clever creative worthy of note, but perhaps we might endeavour to introduce to you a new name in our community of steam and cog, or perhaps remind you of one artisan's successful efforts to bring the past that never was to the here and now. This time, we introduce Laura Strickland.
Steampunk set in Buffalo, New York? Egad, yes!
It might be said that Buffalo, New York—renowned worldwide for its monster snow storms and oft-disappointing sports teams—is an unexpected setting for a Steampunk adventure. As a native, born and bred in that great, gray, gritty city on the edge of the mighty Niagara, I must cry, "Nay!" Dim and dark, industrial yet beautiful, filled with the angst and stoical endurance of its largely-immigrant population, Buffalo's a Steampunk city waiting to happen.
When I began writing my Steampunk adventures back in 2014, I fully intended to set them in London. It was my daughter, a firm advocate for Buffalo and all too aware of its charming idiosyncrasies, who convinced me otherwise. When I thought about it, and realized the black humor, wry determination and heart-deep generosity I wanted to include in my stories already existed in Buffalo—in spades—I was sold. And so, I created a world to which I and my readers have returned again, and again.
The first Buffalo Steampunk Adventure, Dead Handsome, begins with a hero who's…well, dead. The heroine, who desperately needs a husband and wants one who won't trouble her too much by having his own opinions, decides to raise him up using a secret ancestral talent, powered by steam. The trouble is the man, once raised, refuses to remain compliant. And he has a whole lot of trouble on his heels.
From there, the series took off. I try to feature a significant aspect of the city in each book. Thus, we have an airship battle fought over Niagara Falls, a spiritual stand-off in the then-newly-built Forest Lawn Cemetery and a grain elevator rescue on the Victorian waterfront. The series is now up to five published adventures, with another in the works and a seventh already written. Significant research has been necessary, as has the eye-straining study of old maps. Needless to say, I've loved it all. No end in sight!
My characters are bold, they're flawed, they're wicked and heroic. Like the city they inhabit, their histories have dark underbellies. The theme of the series, as a whole, has emerged as the evolution of automaton rights. What began as a wee germ of an idea in the first book, with a single, damaged steam unit, has become a motivating force in a parallel world where hybrid automatons can't be told from humans, and some have bigger hearts than their flesh-and-blood counterparts.
Come and visit…I predict you'll want to stay.
Clara Allen needs a husband in order to keep a roof over the heads of her assorted dependents, a roof her nasty grandfather will re-appropriate unless she is married by her 21st birthday, only a few days away. Strong-minded, unwilling to take orders from any man, she decides to solve her problem by raising a murdered prisoner from the dead and marrying him. She expects an empty-headed puppet; she certainly never dreams he'll be so devastatingly handsome.
Liam McMahon doesn't recall much about his life before his hanging in the prison yard, other than being Irish. He does remember the kiss Clara bestowed as she brought him back to life. Every time he looks at her, his desire gets out of hand. But his former life is chasing him down like a steam engine, and when a couple of mad geniuses decide he'd make a fine experiment, he wonders if he'll live long enough to claim Clara's heart or if he'll die all over again.
---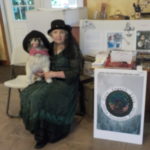 Born in Buffalo and raised on the Niagara Frontier, award-winning author Laura Strickland has been an avid reader and writer since childhood. She believes the spunky, tenacious, undefeatable ethnic mix that is Buffalo spells the perfect setting for a little Steampunk, so she created her own Victorian world there. She knows the people of Buffalo are stronger, tougher and smarter than those who haven't survived the muggy summers and blizzard blasts found on the shores of the mighty Niagara. Tough enough to survive a squad of killer automatons? Well, just maybe.
Find out more about Laura at laurastricklandbooks.com