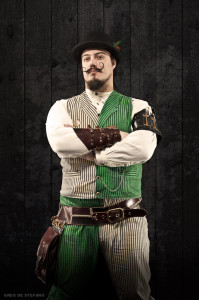 These features as a way for the Ministry to highlight artists, musicians, and makers of all variety. With so many talented individuals to choose from, we know it is a challenge to feature every clever creative worthy of note, but perhaps we might endeavour to introduce to you a new name in our community of steam and cog, or perhaps remind you of one artisan's successful efforts to bring the past that never was to the here and now.
 This week's Æther Feature is all about the League of S.T.E.A.M's crowdfunding for season three of their popular webseries. The League have been great friends to the Ministry, so please think about supporting these wonderful folks so we can all enjoy more of their hijinks!

The League of S.T.E.A.M. is a talented group of artists, performers, and inventors who take their audience back to a time of intrepid adventures, bridging the gap between the supernatural and the scientific; they are monster hunters from the Victorian era. The group is best known for their award-winning web series The Adventures of the League of S.T.E.A.M., which chronicles the group's comedic monster-hunting misadventures.  The League of S.T.E.A.M. specializes in interactive entertainment, performing with a fusion of fantastic technology, interactive demonstrations, and theatrical trickery, and their live events showcase a mesmerizing array of fully functional gadgets and props meticulously designed to enchant and entertain audiences of all ages.  Their mission is to create unforgettable entertainment, telling their stories through a unique mix of interactive live shows, a popular web series, audio podcasts, and interactive fan club, and more.
A few weeks ago, veteran Steampunk entertainers The League of S.T.E.A.M. announced the highly-anticipated third season of their award-winning web series The Adventures of the League of S.T.E.A.M.  The announcement was made through the launch of a Kickstarter fundraising project, where the group seeks $25,000 to aid in the show's production.
The hit YouTube show's second season (also Kickstarter-funded) received accolades earlier this year, with nominations at the Streamy Awards and the Geekie Awards, as well as two nods at the IAWTV Awards.  The episodes featured guest appearances by well-known geek icons like Doug Jones (Hellboy, Falling Skies), Robin Thorsen (The Guild), and Grant Imahara (Mythbusters).
The League of S.T.E.A.M. is best known for creating elaborate costumes, classic monsters and creatures, and fully-functional Steampunk style props.  The group plans to continue creating these trademark elements, with higher production quality and expanded resources, if the fundraising campaign is successful.
Amongst other rewards, backers at any pledge level are promised exclusive behind-the-scenes access throughout the production of the season, featuring sneak peaks at upcoming episodes.  The Kickstarter project will end October 3rd, 2013.
Please support this independently-produced project by helping to spread the word!